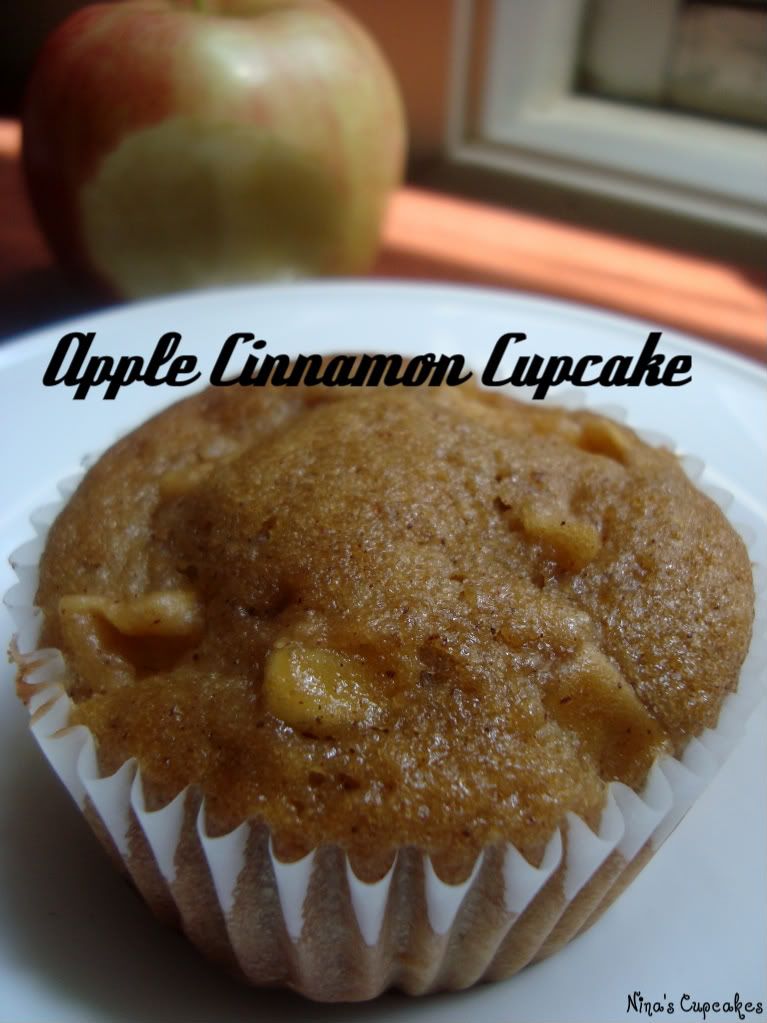 As I start to clean my new apartment, I realize that I have loads of food that I brought up when I started summer school. Mostly my mom made me bring apples up. I also bought a whole bunch of fruit recently, too. I'm also trying to make room for my roommate who is going to be moving in soon. With all that, the next couple of non-group posts should be able random fruit that I have in the fridge.
Like I said before, I had loads of apples, I thought that I could make some apple related items. Last year, I made some
mini apple pies
and this
apple dapple cake
that were both well received. This time I decided to make some cupcakes with it.
I found this recipe off of
Tracey's blog
. She's a great blogger and I just love all of her wonderful recipes. She had made this in the fall which makes sense since it does have some wonderful fall flavors, but the weather in Northern California has been fall-like so it just made sense.
Apple Cinnamon Cupcakes
[adapted from Everyday Food]
1 1/4 cups all-purpose flour
1/2 tablespoon ground cinnamon
1 teaspoons baking powder
1/2 teaspoon salt
1/4 teaspoon baking soda
1/4 cup [half a stick] butter, melted
1/4 cup natural (unsweetened) applesauce
3/4 cups packed light-brown sugar
2 large eggs
1/2 cup of cubed apple
[I'm not sure what type of apple I used, but it was pretty good]
Preheat oven to 350 F. Line a cupcake pan with 12 paper liners (or butter the pan).
In a medium bowl, whisk together flour, cinnamon, baking powder, salt, and baking soda.

In a large bowl, combine butter, applesauce, brown sugar, and eggs. Whisk until smooth.
Gradually whisk in dry ingredients just until combined (do not overmix). Using a rubber spatula, fold in cubed apple.
Spoon approximately 3 tablespoons in each cupcake. Bake until a tester inserted in cake comes out clean, 20 to 25 minutes. Cool in pan on rack 15 minutes; remove cupcakes from pan. Enjoy!