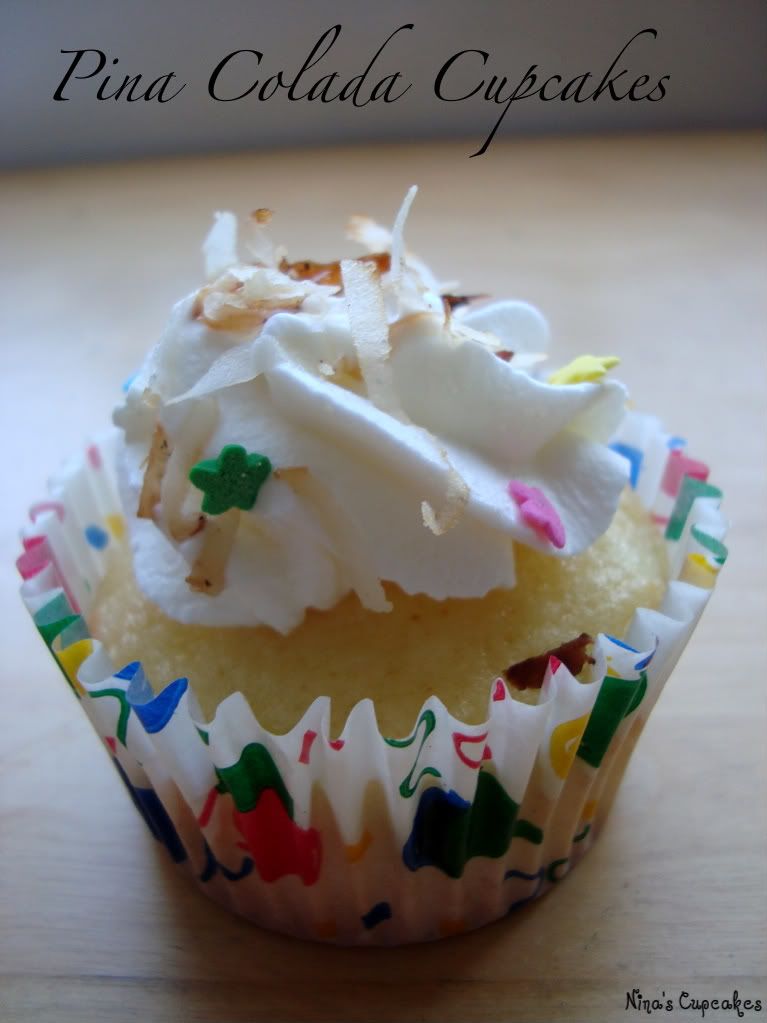 So, in honor of my friend's 22nd birthday, I made these Pina Colada cupcakes. I was planning on making some margarita cupcakes because he's Mexican, but I couldnt find the necessary items before making it all.
I was searching the web for an easy way to make them. Some required 5 eggs, while others were in the metric system which made it a lot harder for me to convert over. Finally I found one that used a box mix. Typically, I don't like using box mixes, but the kickback was planned the night before and I just didn't have the time for effort to make the cupcakes from scratch. I topped these cupcakes off with a rum whipped cream and some toasted coconut.
I brought them to the party and everyone loved them! My friends said that you could taste the rum a bit in the cupcake and in the whipped cream - not enough to make it taste like alcohol though.

Pina Colada Cupcakes:
[adapted from Betty Crocker
and iheartcuppycakes]
Cupcake:
1 box of yellow or white cake mix
1/3 cup vegetable oil
1/4 cup + 2 tablespoons rum
1 can [8oz] crushed pineapple in juice, undrained
3 eggs
1/3 cup shredded coconut
Directions:
Preheat oven at 350F. Line cupcake pan with cupcake liners.
Add 2 tablespoons of rum to the pineapple and let sit for a couple of minutes.
Mix together cake mix, oil, 1/4 cup rum, and eggs.
Take 2 tablespoons of the pineapple juice rum mixture out for the whipped cream.
Mix in the pineapple and shredded coconut.
Place about 2 tablespoons of batter for each cupcake.
[For easier placing, spray the tablespoon with Pam or soak it in vegetable oil.]
Bake for about 15 minutes. Cool in pan.

Whipped Cream:
1.5 cup of heavy whipping cream
2 tablespoons of pineapple juice rum mixture from above
2 tablespoons of granulated sugar
Directions:
Whip all three until stiff peaks form, about 5-10 minutes.

Toasted Coconut:
shredded coconut either cooked over stove top or baked in the oven until toasted.

To assemble:
Take the cupcake and using 1M or other star tip, pipe the whipped cream onto the cupcake. Add some toasted coconut on top and ENJOY!