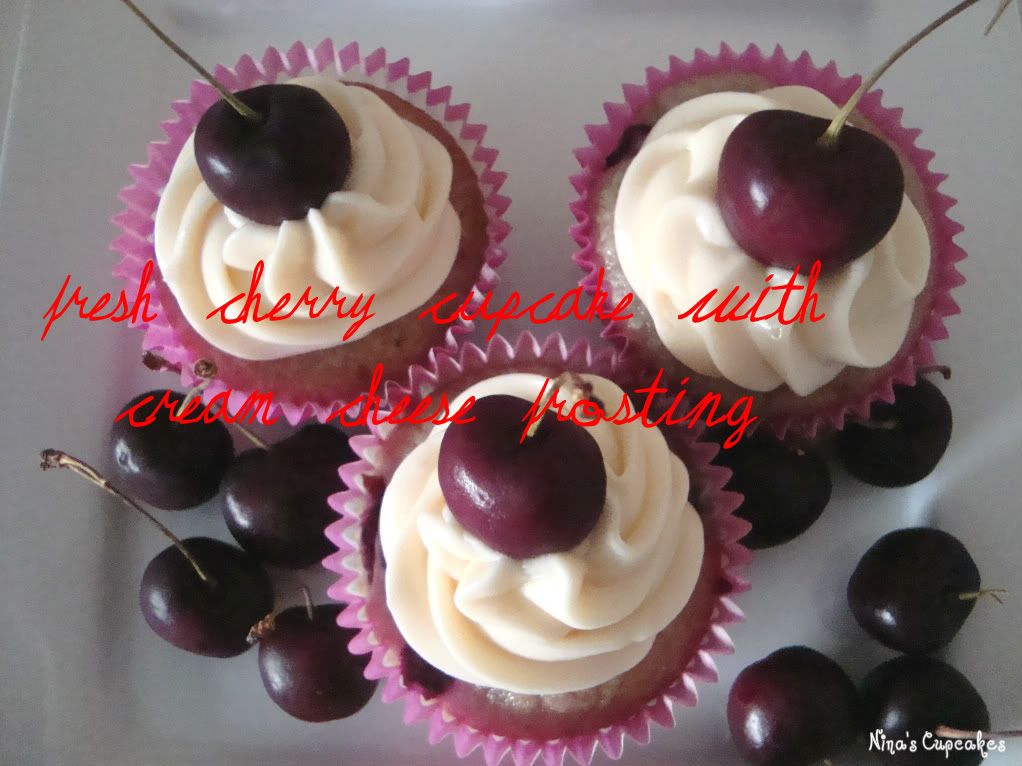 Fresh cherries on sale for $1.99 at Safeway? I grabbed a couple of bags at first thinking that they are bad either taste wise or they were moldy, but when I got home and ate a handful, they were sweet and tangy and actually really good. The next time the boy went to Safeway, I asked him to pick me up a couple of bags again so I could bake with fresh cherries.
Damn, was that a good idea or what? I sat down and pitted all those cherries. Actually, my boyfriend did. He used a straw from Starbucks and just pitted them. It probably wasn't the most efficient way to do it, but it did pit the cherries pretty well, better than if we tried to cut them and pit them. Definitely cheaper than a cherry pitter.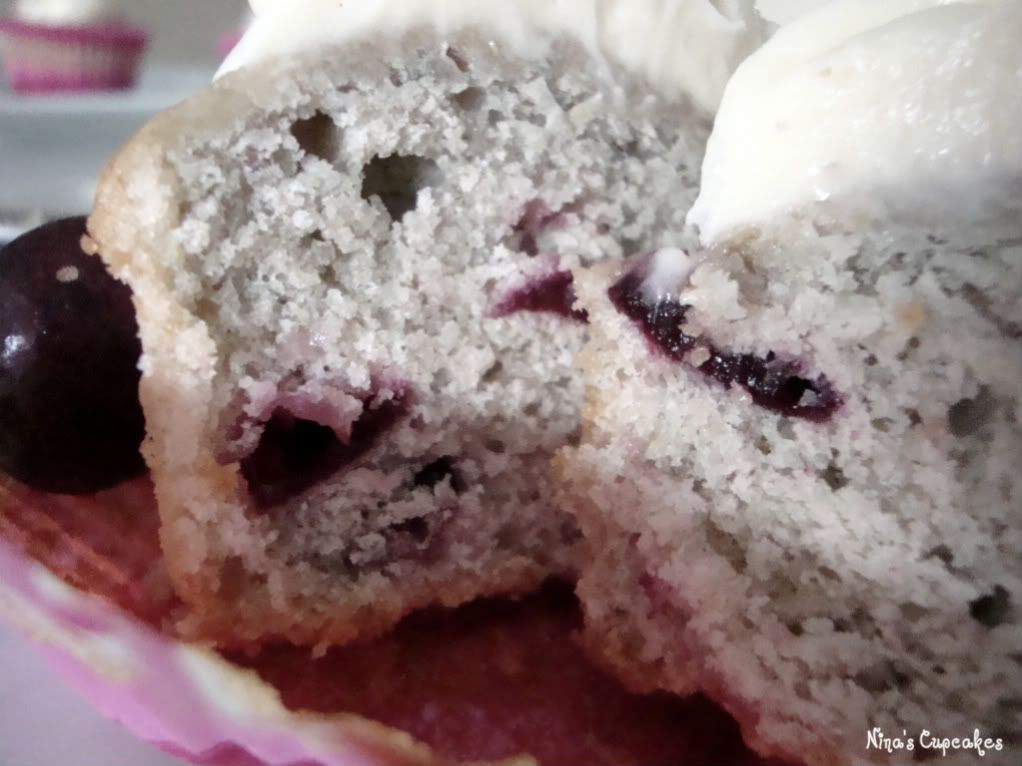 The cupcake itself is a bit dense, but out of the oven, it's soft and delicious. It's not too sweet, but the cherries running through the batter provide a great little point of sweetness. I decided to top these with a cream cheese frosting - it's my favorite type! I found a great little recipe that makes just enough for about 12-15 cupcakes.
Recipe:
Fresh Cherry Cupcakes
(adapted from How Sweet It Is)
makes 12-15 cupcakes
1 cup sugar
1/2 cup butter
2 eggs
2 teaspoons vanilla extract
1 1/2 cups flour
1 1/4 teaspoon baking powder
1/4 teaspoon salt
1 cup chopped cherries
1-2 tablespoons milk, if needed
Preheat oven to 350 degrees F.
Beat butter and sugar together in the bowl of an electric mixer until fluffy, about 2-3 minutes. Add eggs and vanilla extract and mix until combined. Add flour, baking powder and salt with the mixer on low speed, then gradually increase speed. Add in chopped cherries and mix until combined. At this point, the cherries most likely have enough liquid that you don't need to add any milk to the batter. If you batter seems dry and is not like typical cake batter, then add milk 1-2 tablespoons at a time, beating until incorporated.
Pour into cupcake liners, approximately 2 heaping tablespoons worth, and bake for 20-25 minutes or until cake is set. Let cool, then frost.
Cream Cheese Frosting:
(from Food Network)
4 ounces unsalted butter, softened
4 ounces cream cheese, softened
2 cups powdered sugar
1 teaspoon vanilla extract
In a large bowl, beat together the butter and cream cheese with an electric mixer. With the mixer on low speed, add the powdered sugar a cup at a time until smooth and creamy. Beat in the vanilla extract.
To put the whole cupcake together, pipe the frosting onto the cupcake after it has cooled. I used a 1M frosting tip from Wilton, but any will do. Afterwards, decorate using some whole cherries with their stem still on.